02/20/2017

Encourage Members of Congress to Make CTE a Priority
The last few weeks on Capitol Hill have been busy as the 115th Congress has begun its work, and there is no sign that things are slowing down. Two of the top priorities of the spring will be completing work on FY 2017 funding bills, which will determine Perkins CTE funding for the next school year, and beginning work on the FY 2018 process as well. There are already threats surfacing of budget cuts in these bills, especially to domestic discretionary programs like education, so it is critical for advocates to speak out early!
---
02/20/2017

Free Members-Only Webinar: How the Supreme Court May Change Your Practice
Wednesday, March 1, 2017, 7-8 p.m. ET
If you're like most of us, the cases heard before the Supreme Court of the United States (SCOTUS) aren't usually on your radar. That's ok, because CEC is here to keep you posted on what you need to know about what a current SCOTUS case could mean for your daily practice and the field of special education.
---
03/10/2017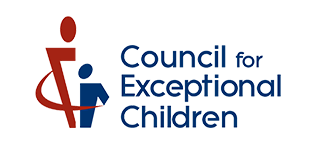 ESSA May Be In Danger
The U.S. House of Representatives recently voted to overturn the U.S. Department of Education's regulation implementing the Every Student Succeeds Act's (ESSA) core requirement that schools be held accountable for the performance of historically marginalized students, including students with disabilities. Congress has never before voted to overturn an education regulation. The Department....
Full Article...
---
03/17/2017

Trump Budget Calls for Cuts to Education and Training
Trump Budget Calls for Cuts to Education and Training
Today, the White House released President Trump's initial budget framework for Fiscal Year 2018. While it does not include the Administration's requested funding levels for Perkins, it does provide a troubling preview of the president's funding priorities for the coming fiscal year.
Full Article...
---
03/29/2017

CEC Partners With Sesame Workshop – See Amazing in All Children!
See Amazing in All Children is a project of Sesame Workshop and made possible with help from some amazing partners including the Council for Exceptional Children! The project was recently launched and all the initiative's FREE resources are available online.
---
03/29/2017

Schools Must Do More Than Provide a "merely more than de minimis" Education Program
The U.S. Supreme Court today issued a unanimous opinion in the case, Endrew F. v. Douglas County School District, ruling in favor of the parents of a Colorado student with autism who indicated that the district did not meet the requirements of the Individuals with Disabilities Education Act (IDEA) thereby, denying him a free appropriate public education (FAPE).
---
04/10/2017
Students Graduate With Mediocre Skills for the Workplace
What the employers expect of their employees and what skills students graduate with is creating a gap, according to a new PwC study.
---
04/10/2017
Mathematics Education: Being Outwitted by Stupidity
In a well-publicized paper that addressed why some students were not learning to read, Reid Lyon (2001) concluded that children from disadvantaged backgrounds where early childhood education was not available failed to read because they did not receive effective instruction in the early grades. Many of these children then required special education services to make up for this early failure in reading instruction, which were by and large instruction in phonics as the means of decoding. Some of these students had no specific learning disability other than lack of access to effective instruction. These findings are significant because a similar dynamic is at play in math education: the effective treatment for many students who would otherwise be labeled learning disabled is also the effective preventative measure.
Full Article...
---
04/24/2017
Morningstar Academy Implements Work Readiness Program
Morningstar Academy recently launched a work readiness program that will provide its students with the skills needed to enter their first jobs. Full Article
---
05/04/2017
Request From CASE
Dear CASE Member,
Your Policy and Legislative Committee and your Executive Committee have been hard at work developing draft IDEA Reauthorization Recommendations in order to be ready if a reauthorization comes up in Congress. In order to finalize, we need to know what you think.

Please complete this survey to provide your input into this important work. We are seeking as much input as possible so please take the time to tell us what you think! We greatly appreciate your time and dedication to this important effort. We know this is a very busy time for you but if you could take a few minutes to do this survey right now, we would really appreciate it! If you are like most of us, if you wait to a "better time," it will fall off the proverbial plate!
Please take this important survey now so we can be sure we consider all voices!
P.S... if you haven't sent your letter or called--it isn't too late...The House Vote is today...there is still time to tell Congress to Vote #NoAHCA...
The U.S. House of Representatives is slated to vote on the American Health Care Act (AHCA) this afternoon. We ask you to urge your member of Congress to vote "No" on the AHCA! If you have already sent a letter, please write AGAIN; and if you have not sent a letter yet, there is still time!
Thank you for all you do EVERYDAY!
Executive Director
Council of Administrators of Special Education
---
05/22/2017

The Playlists: Disability Resources for WIOA Practitioners
High-quality service to individuals with disabilities is a critical goal of WIOA partners and practitioners. You may obtain a wealth of technical assistance resources to help you reach that goal with these ten playlists.
Each playlist is a carefully selected set of links to resources such as toolkits, reports, online courses, and videos on a specific topic related to improving service to individuals with disabilities. The resources are intended for use by workforce development professionals, employers, rehabilitation services providers, adult educators, and other practitioners.
---
05/22/2017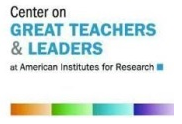 Investing in What it Takes to Move From Good to Great
The Center on Great Teachers and Leaders recently released two resources to support states in diversifying and strengthening professional learning and support for teachers. "Ask the Team Brief! Teachers Supporting Teachers: State Policies for Non-Classroom-Based Instructors" is a brief that reviews existing state policies and highlights state-level programs that support non-classroom-based educators (coaches, teacher leaders, mentors, etc.). The new Report in "Good to Great Study Series: Investing in What it Takes to Move from Good to Great" presents findings from a survey of over 5,000 National Board certified teachers, building on two previous studies highlighting the perspectives of national and state teachers of the year. Education leaders and policy makers can use this information to make smart investments in teacher support and development that may be more likely to improve teaching and learning in the long run.
---
05/24/2017

Innovation with Accountability
If you've had your eye on education news over the past few months, you've probably noticed a surge in stories about school "choice" for parents and students. While much of this discussion pertains to school vouchers, I thought it presented a good opportunity to talk about charter schools, which also fall under the umbrella of "choice."
---
06/05/2017

2017 Special Education Legislative Summit
Take your story to Capitol Hill.
You have dedicated your career to working with children and youth with exceptionalities, and every day you work to ensure their success and happiness. This means that YOU have everything you need to be an advocate?it's time to turn your work, experiences, and passion into action! The 2017 Special Education Legislative Summit will help you gain the expert advocacy skills that you need to tell your personal story in a way that will have a lasting impact.
---
06/27/2017

Too Few ELL Students Land in Gifted Classess
Linnea Van Eman, the gifted education coordinator for the Tulsa school district, sees too many gifted students who simply don't have the language skills to show what they can do.
The 36,000-student Oklahoma district has been pushing hard to bring more students from traditionally underrepresented groups—and English-language learners in particular—into its gifted program. Using a combination of more-diverse testing, greater parent outreach, and closer observation, Van Eman and her teachers are working to fill equity gaps in the district's advanced programs.
---
06/27/2017

Special Education Today
Special education teachers work with children who have varying degrees of disabilities. These teachers have many responsibilities and often work with difficult circumstances. In addition to basic teaching practices, these teachers often provide guidance, encouragement, and a positive, safe environment for children with special needs to learn and grow. Below is a glimpse inside the responsibilities and requirements of special education teachers today.
---
07/20/2017
Is the Vacation Over?
As July starts to come to a close we ask, "is the vacation almost over?" Many of you, like ourselves in the TAI family, do not have the entire Summer for frivolity, or house work - we do not judge, and so we take the one or two weeks we have free to decompress and prepare for the Fall. We at TAI hope that you have had a relaxing break, however long or short it may be. If you have a moment before school starting, you may want to check on the condition of your TAI products. There is still time to get those missing or broken items replaced before the students return. And remember that just because the school year starts back and the "formal vacation" is over, does not mean the "vacation" is over. "Vacation" can be a state of mind if you want it to be.
---
08/10/2017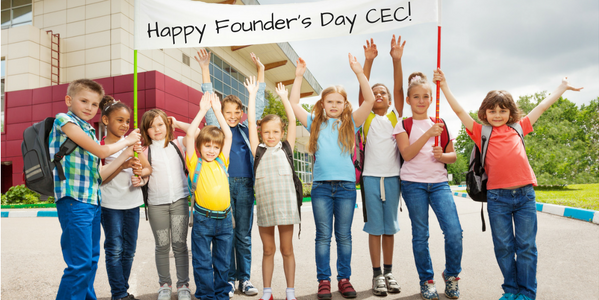 Happy Founder's Day CEC!
On August 10, 1922, Elizabeth Farrell attended a meeting with 10 other educators to promote fellowship and the exchange of ideas among those who worked in special education. The attendees established the International Council for the Education of Exceptional Children and elected Farrell as their president.
More....
---
10/18/2017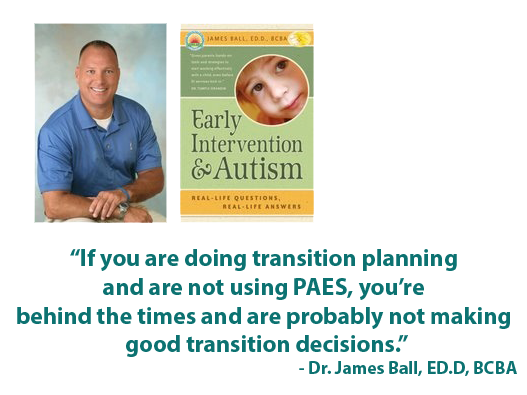 Interview with Dr. Jim Ball
Earlier this year Dr. Ball, speaking at the TAVAC conference in Texas said "If you are doing transition planning and are not using PAES, you're behind the times and are probably not making good transition decisions." Dr. Ball expanded on his comments in an October interview with TAI.
Full Story...
---
10/25/2017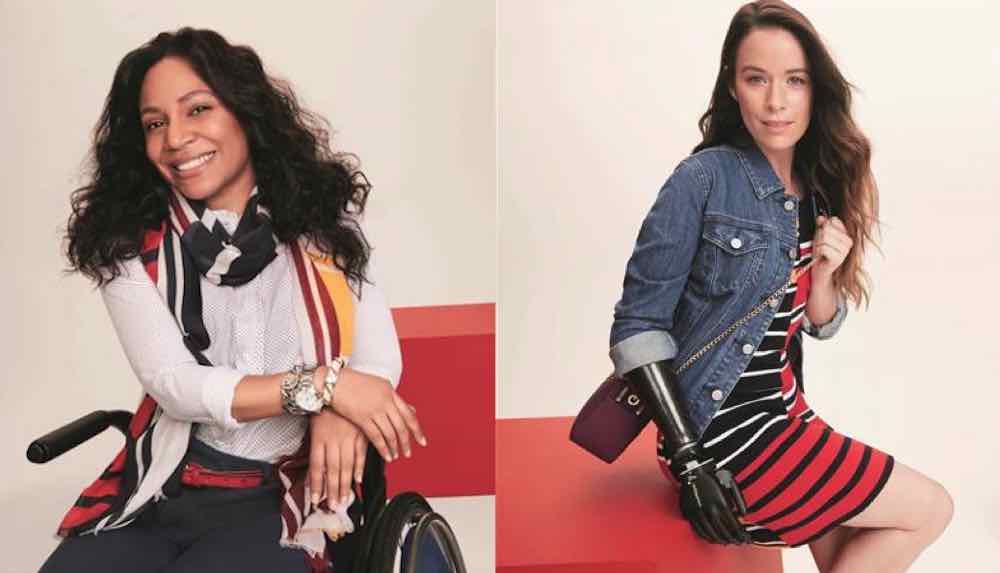 Tommy Hilfiger Launches Adaptive Clothing Line For Adults With Disabilities
Zipping up a jacket on a chilly day may feel like second nature for most – but for people with disabilities, it can be yet another annoying little challenge to overcome.
This is why fashion designer Tommy Hilfiger has just released a new collection of adaptive clothing specifically for people with disabilities.
The company designed the clothing in partnership with Runway of Dreams, a nonprofit that works with fashion brands to design apparel that is easily utilized by differently abled people. The two organizations originally partnered up one year ago to release an adaptive clothing collection for kids – but the products were so successful, Hilfiger followed it up with the adult line.
---
12/29/2017

Selected Articles from 2017
CEC has compiled their list of top read articles from 2017. We have listed a few below, with links.
From John Hopkins University on May 18th: Graduation rate lags for students with disabilities
From Education World on June 8th: The promise of trauma-informed practices
From The Guardian on June 8th: Debunking the "learning styles" myth
---
02/02/2018

Department of Education launches new English Learner data story
On Tuesday, the U.S. Department of Education launched a new interactive web page dedicated to data on English Learner students (ELs). The site uses colorful maps, bar graphs, and charts to provide a clearer understanding of America's diverse ELs population in a "data story" format based on data from the Common Core of Data (CCD).
---
02/02/2018
ED official clarifies student protections under FERPA when it comes to digital media
ORLANDO, Fla. — Michael Hawes, director of student privacy policy at the U.S. Education Department's Office of the Chief Privacy Officer, spoke recently at the 2018 National Future of Education Technology Conference to a small group of district IT leaders and educators.
---
02/28/2018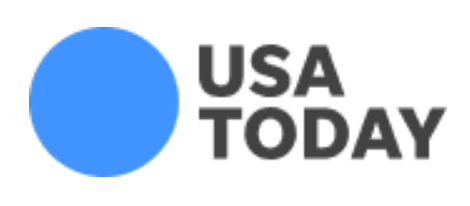 People with disabilities are rapidly joining the workforce. That's a hopeful trend.
Jack Markell, Opinion contributor
TV reflects and shapes how we think about each other, including our family and neighbors with disabilities. Born This Way, The Good Doctor and Speechless offer role models with high expectations for inclusion and success.
---
03/12/2019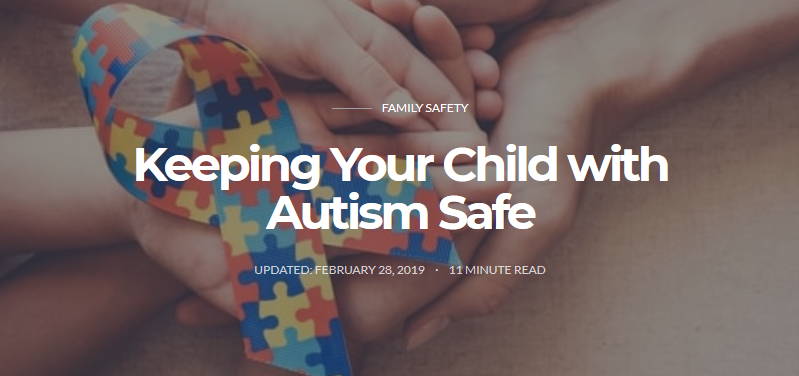 Keeping Your Child with Autism Safe
A recent study by the American Journal of Public Health examined national mortality data and found that individuals with a diagnosis of autism died on average 35.8 years younger than individuals in the general population. Their research also found that the difference in deaths caused by injury was almost as striking.
---